The DOW future as of now is -250 point, get ready for buying opportunities. Previously, I've set my 401k plan to have some cash position. I'd use tomorrow as a buying opportunity on my 401k plan.
The euro will probably hit the 5 years low. So companies with Europe exposure will get hurt – apple, bp, IBM, Cisco, etc.
some blue chips that I've been eyeing on will pose a great entry point for me. Energy sector – Oil price plunged 8% – BP, CVX, COP, XOM, NOV, RIG, etc. These are all good buying opportunities.
Greece's 10 year bond yield is 15%, anyone want to jump on this band wagon? Not me. 🙂 At one point, the bond yield was 50%. Man, somebody stand to make a lot of profit.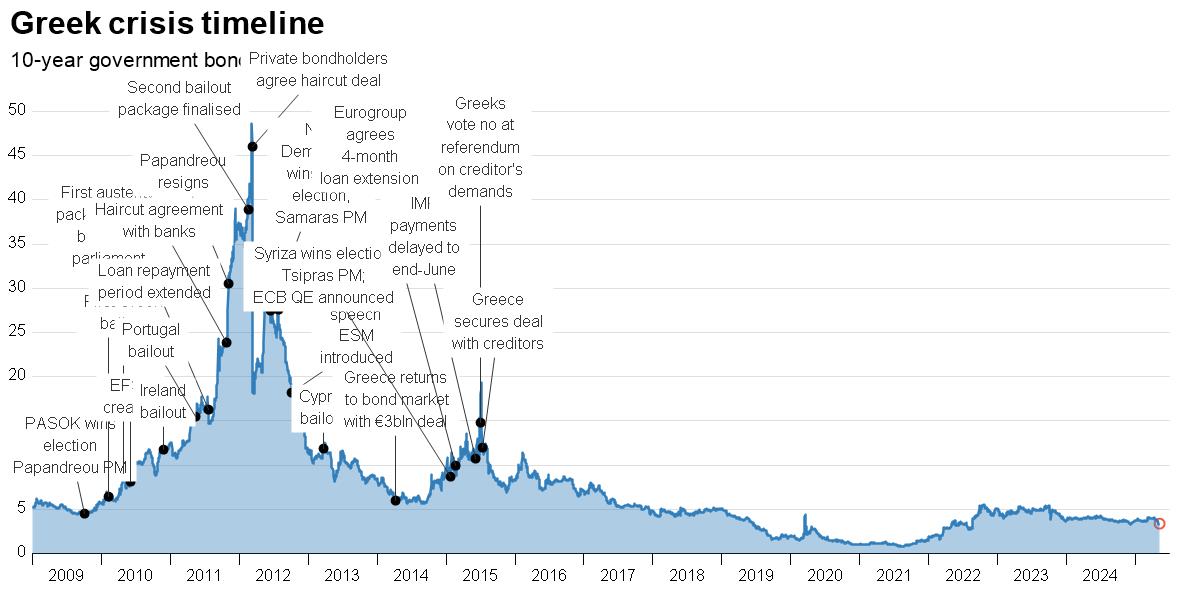 I read some articles on reuters, the Greeks retire in their 40s, the official age is still in the 50s. Before the financial crash, the government couldn't sustain the salaries, so they ask people to take the early retirement package so they will pay less. Then a bunch of people take up the offer while they can. Their lowest pay was 850 euro, then reduce 20%, but that's some massive numbers! especially they are still in their 40s and 50s. Almost 80% of the 250 billion euro borrowed were used to pay the pensions.
Then they want to increase taxes. That's not how it work. It promotes people to cheat on taxes, and the honest people will lose money or simply can't compete. Increase taxes massively kills businesses.
Solution for them, possibly exit the euro zone. Get back to their currency. Keep the pension at the same level say $600 euro = 6000 drachma … Initially. But quickly the drachma will decrease in value, so 6000 drachma, maybe worth 300-400 euro, this is sustainable. Greece can still manipulate the drachma to stimulate their economy. And they don't have the massive debt any longer.
Now, the current government probably had Greece exit plan in mind, but underestimate how long it would take to get the country ready and overplayed his hand. If the Greeks vote "yes", the current government will be outed. It still have negative impact in the region. They voted "No", sending European leaders in awe.
I hope the European leaders only take measure to facilitate Greece exit rather than sustaining the massive pension payout that paralyze the Greece's economy.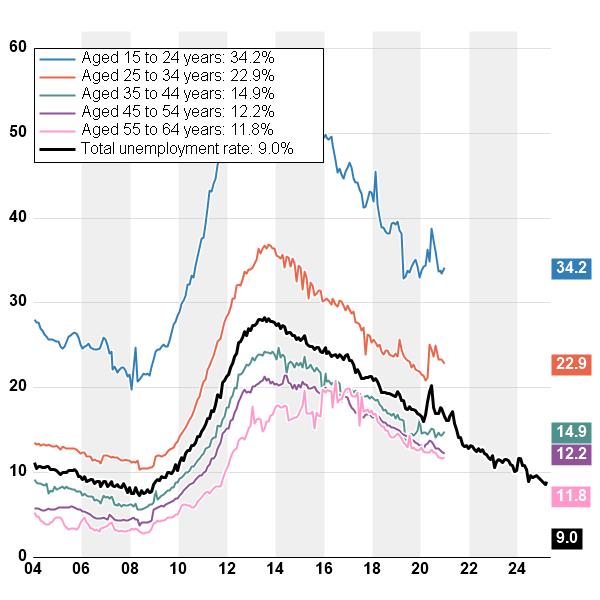 Yikes, if I live in Greece, I'll have 33% chance of having a job of any kind.